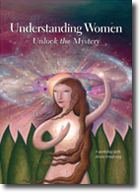 Understanding Women: Unlock the Mystery
™
The Original 2006 Recorded Workshop - 4&frac12 Hours on DVD or Audio CD
Is being mysterious the source of a woman's sexiness... or the source of her suffering?
Join Alison Armstrong as she illuminates the core of women's behavior -- how women think, feel, communicate, and relate to themselves and others. This product includes 4½ hours in chaptered sections with summaries and suggested activities by Alison. Watch or listen, Laugh and Learn, and be more successful with all women!
Listen to a sample now!
---
What if understanding women makes them even more intriguing?
Discover how courageous women are everyday
See the impact of women's feelings -- the good, the bad and the ugly
Learn to heal women and protect both of you from the "Rage Monster"
Find out how to nurture and support women to bring out the best
Gain an unprecedented view into the minds, hearts and souls of women
Equally enlightening for Men and Women!
---
"As a woman, my life transformed in the moment I felt truly seen by men for the first time. I've been more relaxed, happy and peaceful since. Seeing women, by understanding all our unique gifts and challenges, is one of the greatest gifts you can give us."
Alison Armstrong
---
Find out why women:
Can't relax until certain things are cleaned, put away or placed just right
Are compelled to give small details and feel mistrusted when you don't
Can feel threatened by their mate's job, friends, relatives and hobbies
Forget to eat but remember everyone else's favorite foods
Need a touching invitation to come to bed before they're exhausted
And much more!
---
This Product does not satisfy the Understanding Women Online Course prerequisite for participation in live workshops with Alison. Register into the Understanding Women Online Course.
Understanding Women cover illustration © 2007 Roxana Villa www.roxanavilla.com