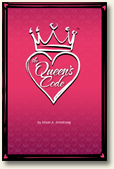 The Queen's Code Book
A Novel by Alison A. Armstrong
Ebook Online Experience available immediately
Paperback and Hardback copies available too!
A romantic novel, The Queen's Code reveals the secrets to communicating with men and a code of honor that will change your relationship to yourself and men forever.
It's fun. It's fascinating. And it will change your life.
---
Transform the way you see yourself and men
Did you know that the words that most motivate men to act are the same words women most avoid using?
Did you know that what women naturally do best, often brings out the worst in men?
Did you know that women unconsciously cause men to treat us the opposite of what we really want? Competing instead of cherishing; fearing instead of trusting; treating with disdain instead of respect; keeping their distance instead of seeking emotional intimacy?
Imagine learning the words that speak to the heart of a man and move him to act on your behalf... Imagine that a simple shift in your perception of men can cause a dramatic increase in their love and admiration for you.
---
The Queen's Code ebook + Online Experience
Over 4 hours of Alison answering questions from readers, chapter-by-chapter on video
The ability to download the ebook to any device
10 Articles and 13 Videos to jump-start your education
8 e-Posters to stimulate conversation with your online friends